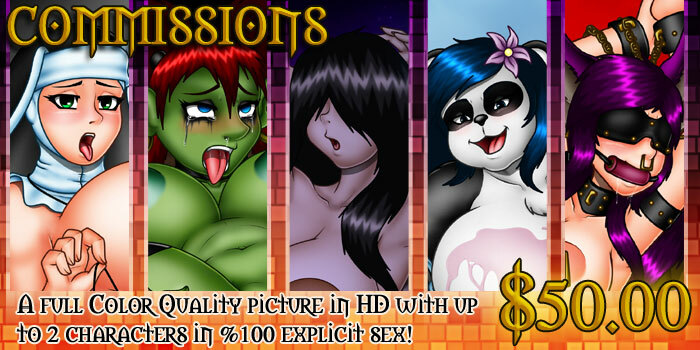 I'm opening general commission again to anyone interested in getting a top quality sexy full color HD drawing from yours truly!
All the info you have to know listed below
Commission Information:
I'm offering my skills as an artist to ilustrate your idea for an erotic hentai drawing in full color HD with top quality work featuring up to 2 characters of your choice doing, well, wathever you want them to do!
Characters will be in full body and can be commercial characters from videogames, animes, animated movies, comics or cartoons, they can be your own OCs or fursona/personaor they can even be my own Original Characters, all available!
As for the theme of the pic, well, it's an erotic image and it can be all from soft-core to extreme hard-core. All from Pin-ups, masturbation, lesbian, tribadism, anal, blowjobs, full-nelson, furry, futanari, bondage, blowjob, pregnancy, sadomasochism, lolicon, impregnation, bukkake, titjob, traps/femboys, rape, sex toys, shortstacks, BBW, torture, body modification, amputee, slave training, bestiality, shotacon, cum inflated, etc, etc... you can ask in case you have any doubt.
LIMITATIONS:
Just to be clear, there are a few thinsg I won't do:
Scat/watersports or human toilets (just... NO!).
Gore or snuff/killing. (I like gore but not in an erotic context).
Feet Fetiches (not really my thing :/).
Artwork based on religious images (I like to be respectful in that regard)
Artwork based on politics (I really don't need/want the drama XD)
Gay/Bara artwork or futas on males.*
Artwork featuring or being interpreted as Racist.
Any artwork featuring real-life people depictions (either if it's a famous actress or your girlfriend or even yourself)
Also, I won't copy or duplicate the "art style" of anyone else nor will I finish or edit an already existing image done or partially done by somebody else.
*Just to be clear, I don't do male on male artwork BUT I'll do male on futa & also pics featuring femboys/traps. ;)
Also, I reserve myself the right to turn down any commission I don't feel like working and I must state that I won't take any responsibility on the use people give to the commissions they buy.
Price & Payments:
Any picture in full color and featuring up to 2 full body characters is priced at $50.00
If you would like to add a 3rd or more characters, every additional character adds $20.00 to the base price of $50.00
Removing a character or having the characters not shown in full body doesn't reduce the price.
Not working scketches, or just linearts at the moment.
Comic commissions are not available at the moment.
Payment must be UPFRONT and trough PAYPAL ONLY.
Interested?
If you're interested in getting a commission, please send me a private message with the information of your commission, from there we'll discuss the rest of the details. Please, DO NOT send any money until your commission has been approved.
I'll be limited to working 3 commissions at a time, if you see all my ongoing commission currently 'USED' please come back later.
Ongoing Commissions:
AVAILABLE
AVAILABLE
AVAILABLE